Madison Square Medpace Campus
Madison Square Medpace Campus is a mixed-use development prominently located in the Madisonville neighborhood of Cincinnati, OH. Medpace, a drug trial company, will house its headquarters in this new office building extension of the Madison Square development, founded by RBM Development Company, LLC. The 120-foot-tall office building includes a 45-foot-tall garage for an overall project size of 574,400 square feet. Skanska USA Building Inc. through a recurrent partnership contracted Strong Tower and was enlisted to Design-Assist on the Curtainwall and Metal Panel systems.
During the Design Phase, Strong Tower aided in design document review and Value Management to meet the Owner's functional, aesthetic, and budgetary needs.
The Design Assist process led the Team to EFCO Corporation, a leader in architectural aluminum curtain wall, storefront, and entrances. Strong Tower sourced EFCO Corporation to provide D300 Medium Stile Doors and the 5600 PG System with all related components for the Window Wall and Curtain Wall. Strong Tower field glazed the EFCO frames with the glass package procured from Viracon, a single source glass fabricator known for innovative products and reliable service.
Strong Tower produced in-house all Shop Drawings and Fabrication specifications. EFCO Corporation extrusions were shipped to Strong Tower's headquarters in Louisville, Kentucky where each frame was assembled to specification. These frames were wrapped and transported to the project site for installation into the building. The total square footage of glass was 64,235 square feet.
Strong Tower was also contracted by Skanska USA Building Inc. to Design Assist with the Metal Panels. Formed Metal Wall Panels and Metal Composite Material Wall Panels were supplied for the office building while non-perforated Metal Panels were supplied for the parking garage to complete a comprehensive package. Strong Tower partnered with East Coast Metal Systems, Inc., a custom metal shop, for the panel needs and self-performed the installation of the panel systems. The total square footage of panels was 84,067 square feet.
Strong Tower sourced fire-rated doors and fire-rated glass for the project from Aluflam North America, an industry leader in fire-rated aluminum and glass products. These products were also installed by Strong Tower.
While COVID-19 held a negative impact on the construction industry in 2020, this project remained on course throughout the crisis due to effective safety measures implemented through CDC guidelines, Skanska USA Building, Inc., and Strong Tower.
---
Quick Stats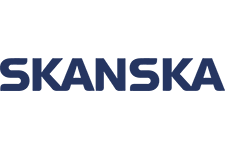 Client

Location

Cincinnati, OH

Architect

General Contractor

Suppliers

Engineer

Expertise

Curtainwall
New Construction
Panels

Sector

Medical Facility
Private Industry
Full Gallery