Strong Tower has upheld the highest standards in business for more than 84 years, with ethical standards, experienced crews and knowledgeable leadership.
---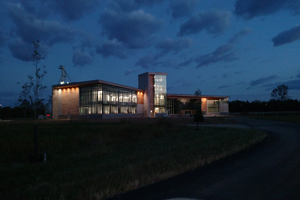 Helping others shine isn't new to Koch Corporation.  New Construction, installing specialized new materials…"New" is something Koch Corporation has a time-tested history with.  That's why Bardstown Bourbon and Koch Corporation have been a great combination!  The innovative approach Bardstown Bourbon as taken to the production of an iconic beverage like bourbon, which Kentucky is well known for, is bringing something "New" to something proven.  Most bourbon production is done in a historically significant location which matches the brand.  But Bardstown Bourbon has constructed a plant capable of producing bourbon to the specifications of the customer.  This innovative approach has their plant completely sold-out, and they've hardly had time to open their doors!  In fact, they are now almost doubling their capacity, and Koch Corporation has been with them through all of this growth!  The 81 years of time tested experience Koch has in the glass and glazing industry has helped Bardstown Bourbon show off the excellence that is going on inside their new building; in fact, when you see the beautiful, newly-constructed building at night, you might even say it shines!
---

On every construction job done for a government agency, there are metrics which must be met in order to successfully close out the job.  Recently, Koch Corporation earned a PERFECT SCORE for the security window replacement project at Walkill Correctional Facility.   With 81 years of experience in the Glass and Glazing industry, excellence is always our hallmark, and being given a perfect score validates this!
---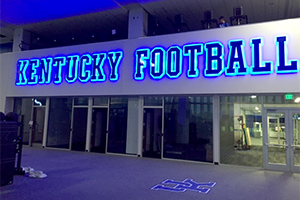 The newly unveiled $45 million Kentucky Football Training Center is state of the art!  From the 15,000 square foot weight room to the adjoining training room, complete with X-ray machine, two exam rooms, hot and cold tubs, and an underwater treadmill, it is clear Kentucky is all about training!  The team will definitely be able to run, but not hide from the coach these days!  Among other unique features of the building envelope, Koch Corporation installed the glass railing of the patio outside the coach's office and the wall of windows overlooking the two new outdoor practice fields. The beautiful facility  has curtainwall with integrated Sunshades,  as well as storefront windows so the building envelope lets in ample natural light to keep the team members happy and productive.  The tastefully designed Heavy Glass interior Storefront systems, stair rails, trophy cases and uniform display center were some of the other proud work of Koch Corporation.  Coach Stoops gave Koch the highest praise upon the completion of the project, and now Koch Corporation has one thing to say back, "Go Blue!"
---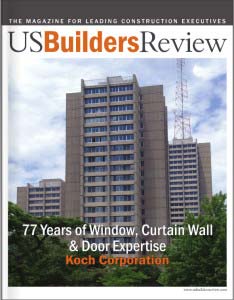 Koch Corporation was recently written up in the US Builder's Review, Fall 2013 Edition III.  Sean O'Reilly & Molly Shaw correctly describe Koch as having increased their national footprint across the continental U.S.  In 2013 alone, Koch had employees in Anchorage, Alaska, Buffalo, NY, Louisiana and Tampa, Florida, just to name a few of the states where Koch was putting their 77 years of expertise to work.  O'Reilly & Shaw go on to point out that Koch offers in-house product application design services, shop drawing and drafting and that they have an on-site fabrication facility.  They quote Koch's CEO, Benjamin Feinn as saying, "If we're acting as the prime glazing contractor, about the only service we won't perform is roofing.  Because we've been around for 77 years and we've never left anyone high and wet, we get a lot of calls from general contractors who want us to work with them.  Some people shop around based on price, but we stand for quality."  To read more about Koch in the US Builder's Review, click here for the full article.  To read the article in the copy edition, go to page 81-84.
---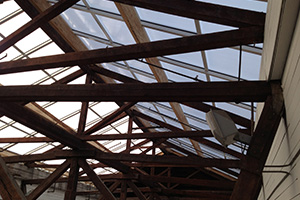 If you needed to install a new, thermally efficient skylight in a 120 year old building with sagging, structural purlins and curbs, who would be the best choice in the industry to do that kind of work?  Koch Corporation is the obvious choice for building envelope improvements on a historical building!  Koch Corporation, with our vast expertise and experience developed through 77 years of leadership in the glass and glazing industry, helps owners of historically significant buildings gain thermal efficiency without compromising the originality of their building.
In the case of the Louisville, Kentucky TARC (Transit Authority River City) building, Koch was chosen to engineer and replace the original sagging structural purlins (the horizontal wood that held up the skylight) and curbs.  This was no small feat as there was a window well which looked like the web of a drunken spider separating the art glass, visible when looking up at the ceiling inside the building, from the skylight.  The bottom of the window well was 82 feet off the floor.  Koch Corporation had to build special staging and install protective coverings so that this antique art glass would not be damaged during the repairs and installation of the new, nano-gel filled panels that made up the skylight.  This thermally efficient skylight, made by Wasco Skylights was installed without disruption to the daily business of the train station.
---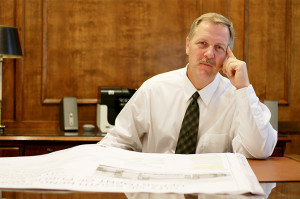 John Karman of Business First Magazine recently spoke with one of Koch Corporation's owners, Benjamin Feinn, about how the company is faring in the current economic conditions.  Benjamin Feinn explained what Koch Corporation is doing to keep up in these tough times.  Even though the construction sector hasn't fully recovered from the recession, as always, Koch Corporation is continuing to give the excellent service and workmanship that it has always done for the past seventy-seven years.  An excerpt of the article published on page 23 of the March 22, 2013 edition can be found on their website here: http://www.bizjournals.com/louisville/print-edition/2013/03/22/glass-company-koch-corp-stays-steady.html.
---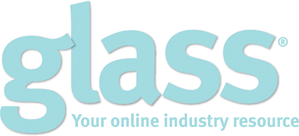 Installing 1,569 Blast and Ballistic windows made by Wausau Windows, 1,810 miles from the home office was no small job but it wasn't too big or too hard to rattle Koch Corporation! The 7 story Federico Degetau Federal Building in San Juan Puerto Rico had 1400 windows installed with in-situ water and air tests performed throughout the project. The single story courthouse had 169 Blast/Ballistic windows installed in a fashion similar to the federal building. The biggest test to the integrity of the new windows came throughout the project, however. During the installation, Hurricane Earl, Tropical Storm Emily, Hurricane Irene and Tropical Storm Maria battered the San Juan area. But despite the delay such storms cause, Koch was able to finish the project on time and when Hurricane Isaac hit San Juan shortly after the Koch team had finished the project, there was not a leak or any issue reported associated from the new windows.
Recently, this project was featured in the national magazine, Glass Magazine's, E-Glass Weekly's regular feature titled, "Great Glazing".
---

Koch Corporation is available to work with your school district to design and install security windows, doors and glass barriers to make your school a safer place for children. Koch has extensive experience installing security and ballistic rated windows and doors in prisons, government buildings, schools, universities and other high risk structures. Many buildings have glass barriers to prevent entry into occupied areas, yet allow for full visual inspection of visitors upon their approach. Koch's onsite architectural staff can work with your building liaison to offer recommendations for your particular application. Koch's professional installation teams can complete work even when school is in session, without disruption to the daily flow of day to day activity. Contact one of our highly trained staff members to find out what installation of some of the ballistic barriers and security precautions, currently used in FBI and government buildings can do to protect the staff and students of your school or daycare.
---
Koch Corporation ranked 19th in the Top 50 Glaziers in the Country by Glass Magazine.  The annual Top 50 rankings present what Glass Magazine editors believe to be the United States' 50  top glazing firms, based on sales volumes. The glazing firms are ranked within nine sales categories.  Koch Corporation has been in the Glass and Glazing business since 1936 and is still going strong!
---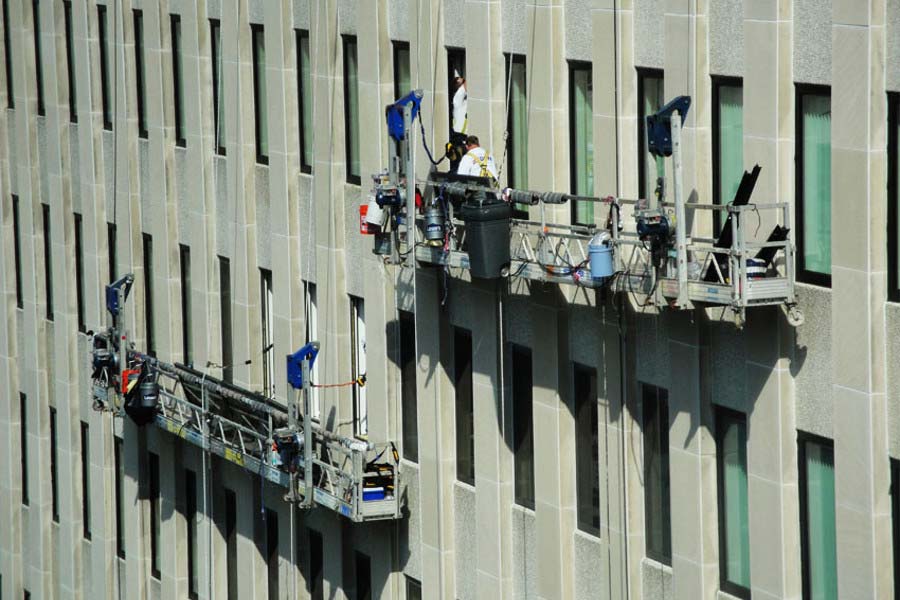 Not every glass and glazing contractor cares about all the little details, but Koch Corporation certainly does!  While replacing the 1,292 windows in the West Virginia Capital Complex with new  Winco windows, Koch worked hard to allow the  normal work schedule in the three state office buildings to be maintained.  Each of the three, 11 story buildings had their windows replaced.  With the use of  wood panel inserts in the window openings during the installation process, along with  forty-foot long swing stages on the outside of the building, Koch Corporation made it possible for the employees of the State Office Complex to do business as usual.  Even though there was asbestos present,  protective barriers and procedures were used to ensure the safety of the office tenants.  This is just another example of the excellent work and expertise Koch Corporation is so well known for.
---