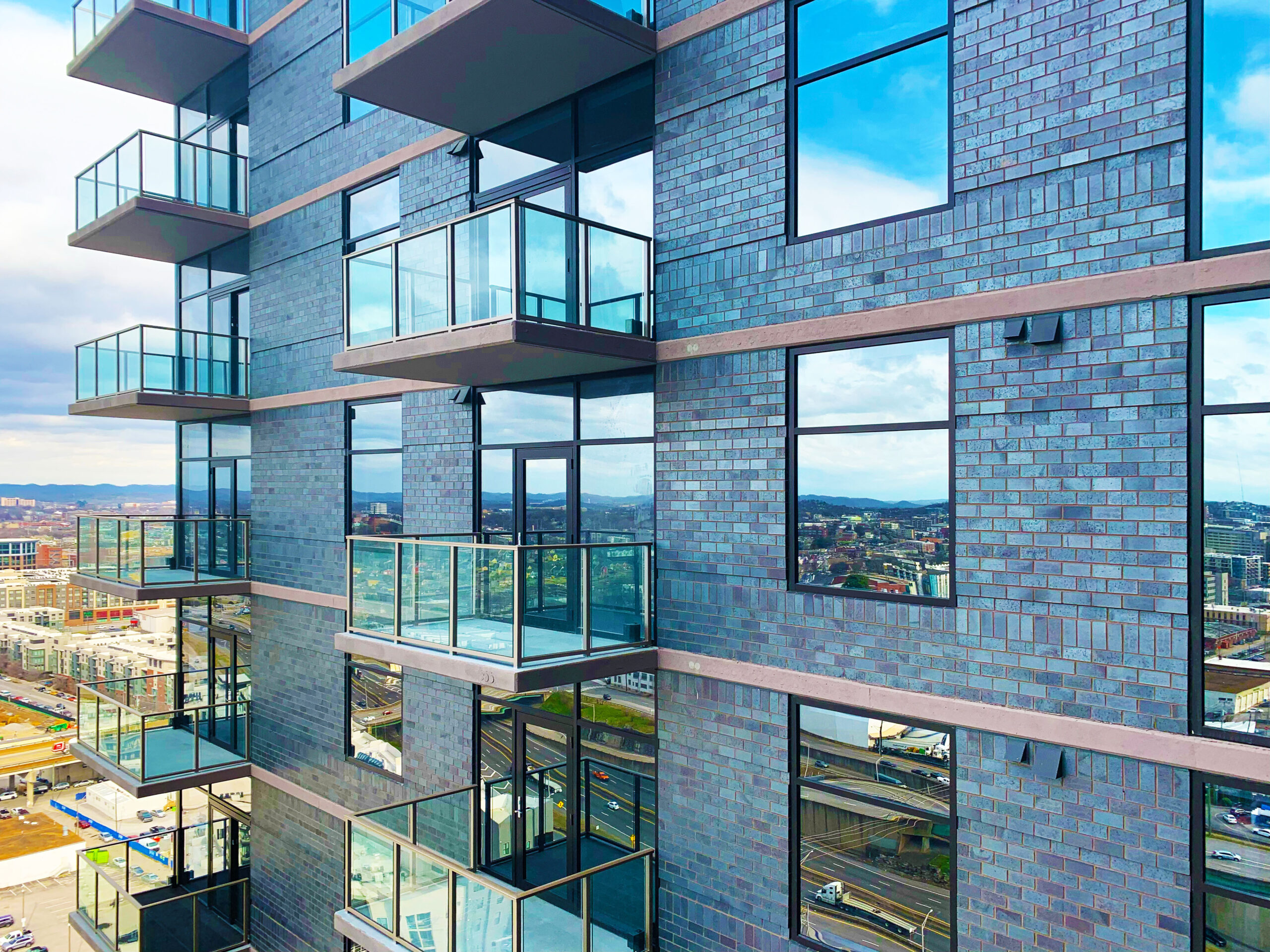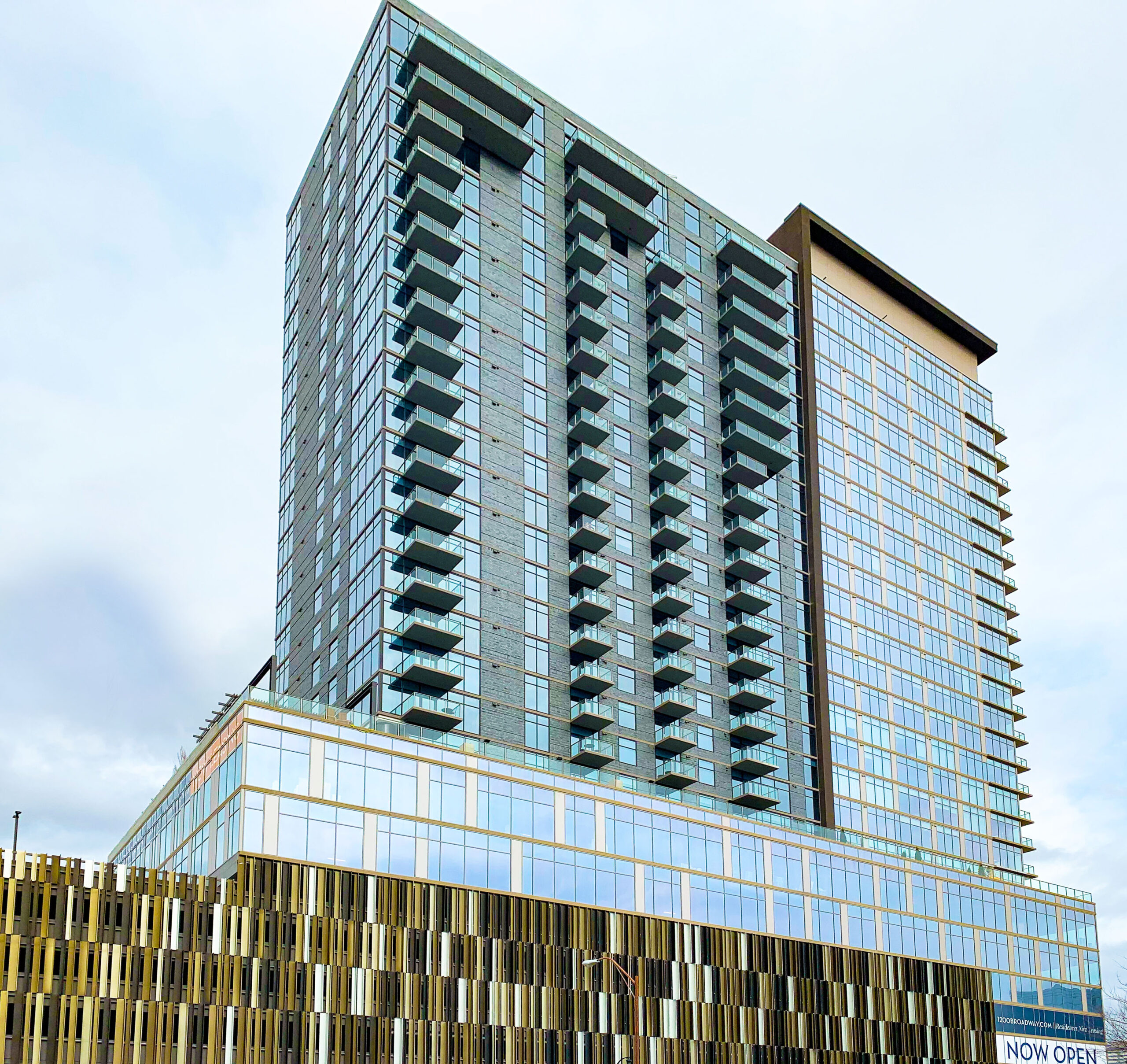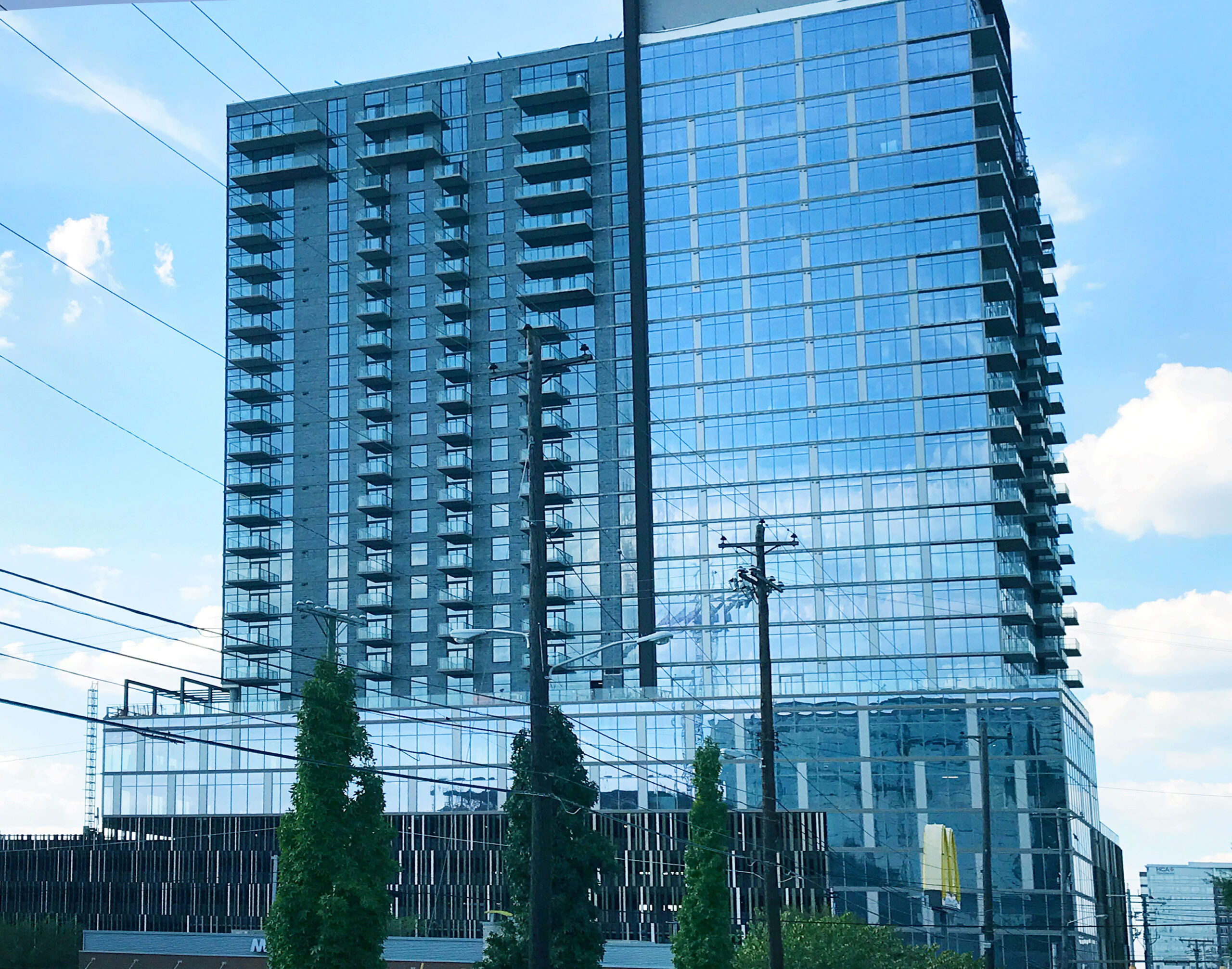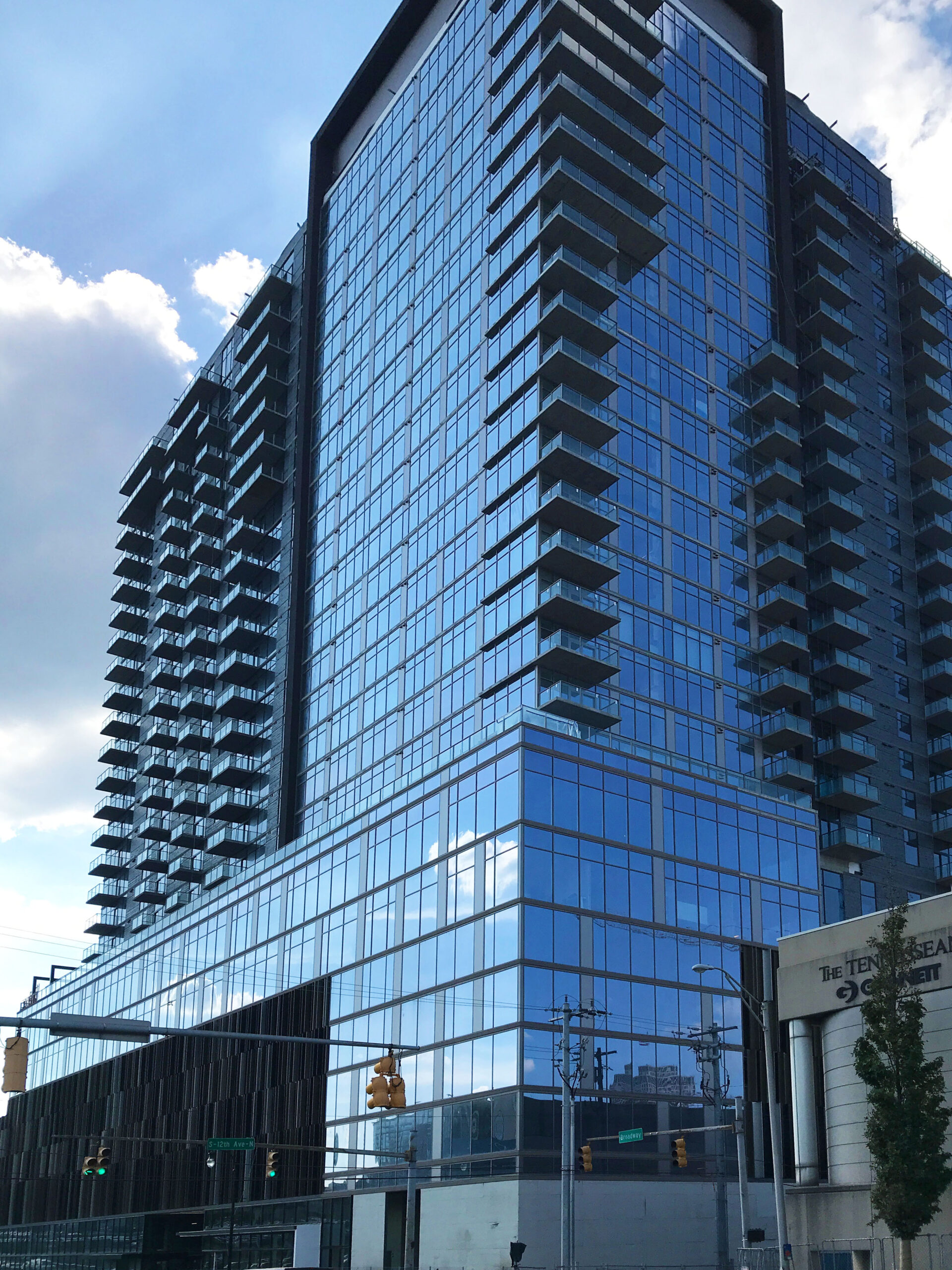 Strong Tower Construction partnered with General Contractor, Turner Construction, for 1200 Broadway, a 26-story, luxury apartment and mixed-use high-rise in the prominent "music row" area of Nashville, TN. The all-inclusive, 860,000 square foot tower promotes a condo-quality, multifamily development, offering 313 apartments of varying configurations from level 8 through 26, with a penthouse on the top floor. This development also incorporates a five-story, 723 space, parking garage, office space, amenity deck, and a Whole Foods Market on the ground floor.
Strong Tower procured standard entrances and 2000T terrace door products from a long-time material partner, Kawneer, which were installed in each apartment. In addition, the 601T Framing System, and 2250 Inside Glazed Curtain Wall System, which Strong Tower installed, were procured from Kawneer. These systems allow for future replacement glass to be more accessible without the use of intrusive equipment, such as swing stages, commonly used for this purpose on existing high-rise buildings when they require replacement glass. The standard entrances, storefront, and curtain wall system are finished in a dual-color, which presented a cohesive façade, yet offered a lighter interior for a more aesthetically pleasing product both inside and out.
Strong Tower provided and installed powder-coated, two-tone Nanawall bi-folding doors, featuring both Duranar Sunstorm and Café Noir Pearl finishes. The thermally-broken doors maximize the desired heating and cooling efficiency of the space. John W. McDougall Company, Inc. of Nashville, was subcontracted by Strong Tower to install multiple ACM panel applications, including large column wraps and canopies; while Construction Specialties was subcontracted to install storm-resistant fixed horizontal louvers.
Glass materials were provided by industry leader Viracon and consisted of spandrel and vision glass using a specified VRE1-59 "room side" Low-E coating to produce the desired UV light transmission. Framing for the curtainwall installed on the high-rise was fabricated at Strong Tower's Fabrication Plant in Louisville, Kentucky, and shipped on trailers to Nashville for field installation and glazing. Strong Tower not only fabricated aluminum framing for the project, but also provided, and built, specialty crates to ensure safe and damage-free delivery of all materials during transit from Louisville, Kentucky to Nashville, Tennessee.
The project pursued a LEED Silver Certification. Construction in a heavily congested, downtown area such as Nashville can present its logistical challenges. However, great communication with both the city of Nashville and Turner Construction Company, (General Contractor) allowed Strong Tower to overcome the many challenges that were present throughout the duration of the project.
---
Quick Stats
Client

Location

Nashville, TN

Architect

General Contractor

Subcontractors

Suppliers

Engineer

Expertise

Curtainwall
Doors
Interior Glass and Mirrors
New Construction
Storefront

Sector

Hospitality
Private Industry
Full Gallery